One of the largest construction projects ever is the International Space Station (ISS). Created by a consortium of 15 nations and five space agencies, the ISS has currently scheduled construction costs exceeding £46 billion.
NASA is consistently researching how to treat the mental health of Astronauts on long-duration space missions. Astronauts are at a high risk of experiencing mental distress for a range of reasons, they experience long-term social isolation, sleep disturbances, monotony, lack of privacy, persistent threats to their safety and have limited access to the types of "supports" that many of us take for granted, including ready access to friends and family, and physical activity.
There are many studies which have shown that doing physical activity can improve mental health. It can help with better sleep, managing stress, anxiety or intrusive and racing thoughts, better self-esteem, reducing the risk of depression and connecting with people. It would seem that there are parallels with providing mental health care for individuals on earth and astronauts in space. For instance, if you're forced for six months or more to live and work in your office, then downtime is really important and needs to be rejuvenating.
Creating spaces that are interesting and encourage recovery should be the cornerstone of every mental health facility. One of the key design principles of the new 90 bed medium secure facility at Northgate is creating every service user space in the building as an activity or therapeutic space, adjustable to the needs of the users. The bedroom as the main private place for service users, has had a new approach with the proposal of creating a sizeable rectangle zone where service users can relax and be comfortable when undertaking a range of physical or relaxing activities in the privacy of their own bedroom.
Mental health bedrooms have come a long way in recent years and the thought was can we make it even more therapeutic by introducing an activity zone without adding floor area and increasing cost. Rather than reinventing the wheel our starting point was the design and clinical operational knowledge of some six types of new bedrooms built and operated since 2006. The proposed new layout is shown below.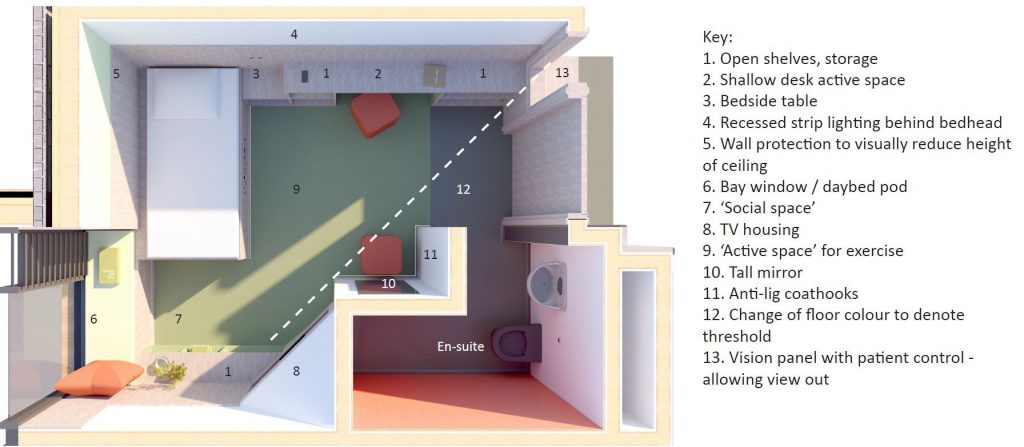 Aerial View of Bedroom
Views into room from Bedroom door and from bedroom window seat
Engagement with service users and clinical teams will influence the final design with a full size bedroom mock up to be built to test the function and give an understanding of the final design. This will allow modifications to be made at design stage rather than on site.
The proposed new secure facility is the most significant part of a programme of works with the project acronym 'CEDAR' meaning Care Environment Development And Re-provision. The CEDAR programme board was set up in November 2017 to ensure a collaborative approach to the three major care model developments of New Care Models for Adult Secure Services, NHS England National Adolescent MSU review and Newcastle & Gateshead Delivering Together.
As part of a new regime to access capital funding introduced in 2017, trusts have had to submit capital bids through their local sustainability and transformation partnership (STP) to NHS England. The STP Wave 4 bid was successful in allocating funds of £54.2 million to provide new and upgraded facilities for the requirements of the three major care model developments. The bids were assessed by both NHS England and NHS Improvement, with approval granted by health ministers and Treasury officials. All funding released is dependent on robust STP level estates strategies.
Whilst there are some formidable hurdles to get over in relation to design, affordability and approvals the Strategic Outline Business Case (SOC) has received positive feedback with approval expected early July 2019 and NTW Solutions is currently progressing with the developed design stage (RIBA Stage 3) and the information to complete the Outline Business Case for submission in August 2019.