NTW Solutions Limited is a wholly owned subsidiary of Cumbria, Northumberland, Tyne and Wear NHS Foundation Trust, providing an operated healthcare facility to the Trust across its property and back office services as well as developing a range of similar support services to external clients across the region and nationally.
Across the fields of Estates, Facilities, Car Leasing, Finance, Workforce and Procurement, NTW Solutions can offer high quality advice and services to others in both the public and private sectors. 
Created as a company in 2017 NTW Solutions have built our commercial ethos upon the firm foundations of our NHS values.  With particular experience of supporting mental health services, we offer innovative and sustainable solutions, ensuring best value. 
Some key statistics regarding the work we do
This innovative company delivers a high quality service, providing forward thinking solutions which meet our needs. I would confidently recommend their services.
Chief Executive,
Cumbria, Northumberland, Tyne and Wear NHS Foundation Trust
A revamped Café menu proves popular with Hopewood Park staff
Read More »
Digital Dictation team joins the NTW Solution family.
Read More »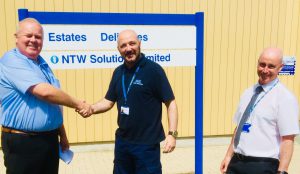 NTW Solutions undergo external audits on a regular basis to ensure the services we deliver are compliant and best practice in line with industry standards.
Read More »